Oh how I love before and after photos. Those photos just make me excited for all the potential every piece of ugly furniture has. I love read do-it-yourself articles and blogs, and since I have a blank slate of a house ripe for the decorating, the articles couldn't be more perfect for me!
I received a free desk from my in-laws. Even Karl didn't want it. But I saw that it had enormous potential, plus, my current desk was very ugly. I mean $50 at target particle board covered with fake wood sticker ugly. Here is a picture: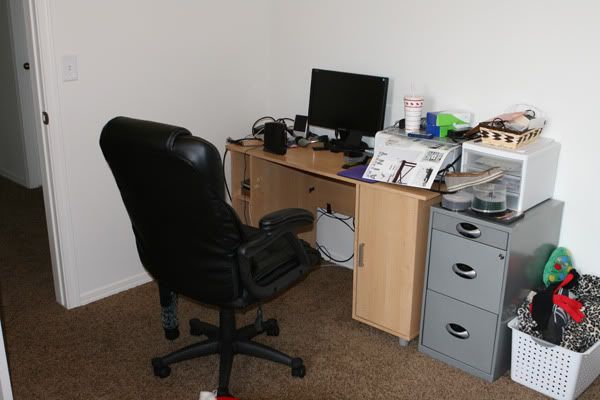 To figure out my re-do for the desk I first had to figure out how I wanted to decorate my office. I cut out inspiration from painting magazines and created an "inspiration board." Karl hated the direction I was going. However, since I work from home and I work IN THE OFFICE I told him that he could have a room in the house that we could decorate any way HE wanted - perhaps the bathroom. :) He really didn't care but it was a funny conversation.
Anyway, I had my office theme and then I was ready to paint the desk. Here is my lovely desk BEFORE the transformation: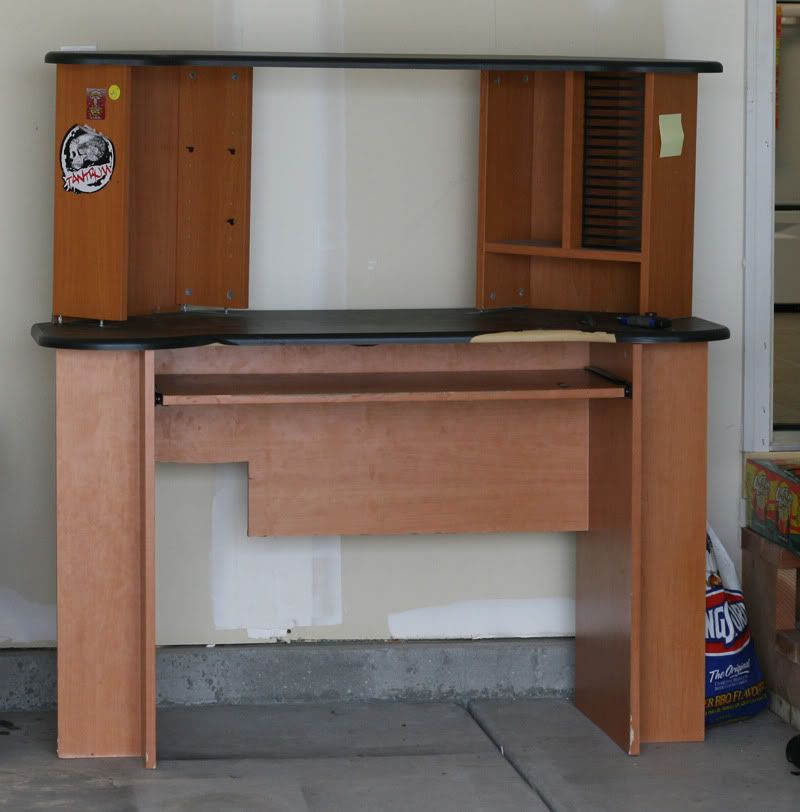 Notice the nasty stickers on the side, the peeling-up plastic, and the un-moderness of it all. But shapewise? I'll take it. I can do cool things to this desk.
So I started by peeling up all of the nasty plastic with a razorblade.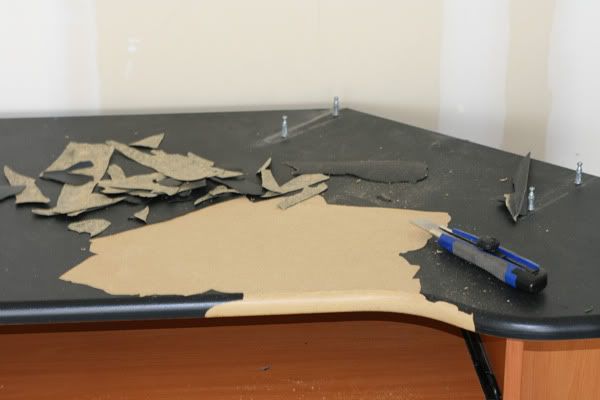 That part took forever. Then I sanded down the wood underneath the previous plastic with my awesome sander. I also sanded off all the stickers.
I then went to walmart and bought shiny black paint and polyurethane. I then went to the scrapbook store and bought scrapbook paper to line the back of my shelves.
I put on 3-4 coats of black paint over the whole desk and then put on 2 coats of quick-dry polyurthane. (that sounds like it was so fast. But it wasn't)
I then lined the previous shelf backing with my scrapbook paper via decopauage glue.
I contacted Karl's aunt who has a vinyl printing business and paid her to print out a big vinyl sticker that I designed in illustrator.
Once the desk was dry, I nailed on the back of the shelves that are now covered in pretty paper. I then put my big vinyl sticker across the top. Are you ready to see the transformation??????????????
DESK AFTER:
SEXY SEXY DESK. Which Karl LOVES. He just couldn't see my vision in the beginning.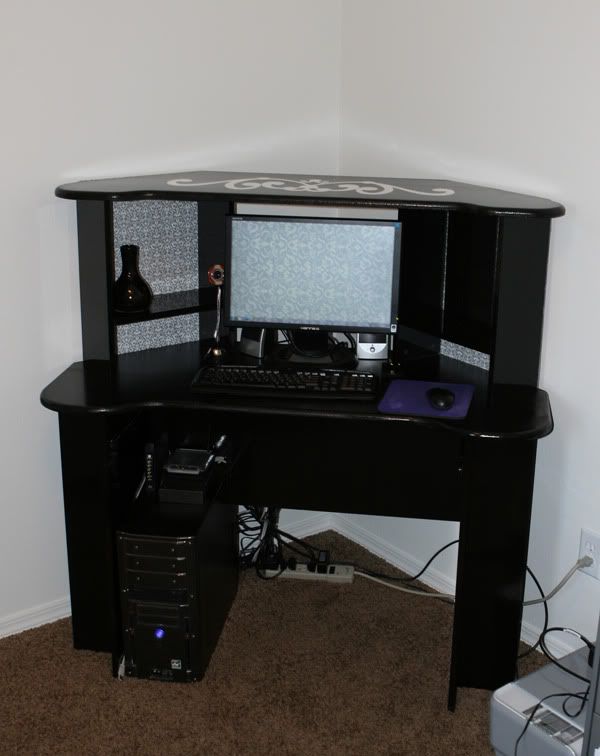 Here you can see better the sticker I designed and the back of the shelving: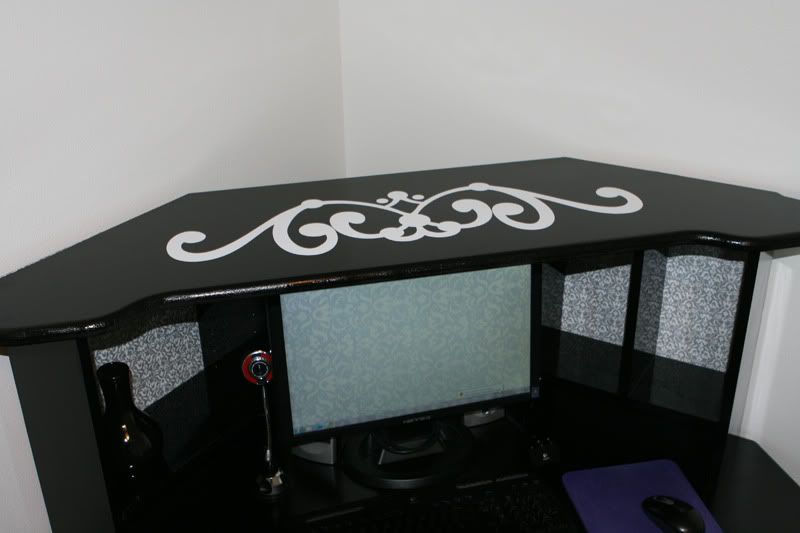 And just because I love it so much and am so proud of it, here are tons more pictures of it.
Cute vase from target: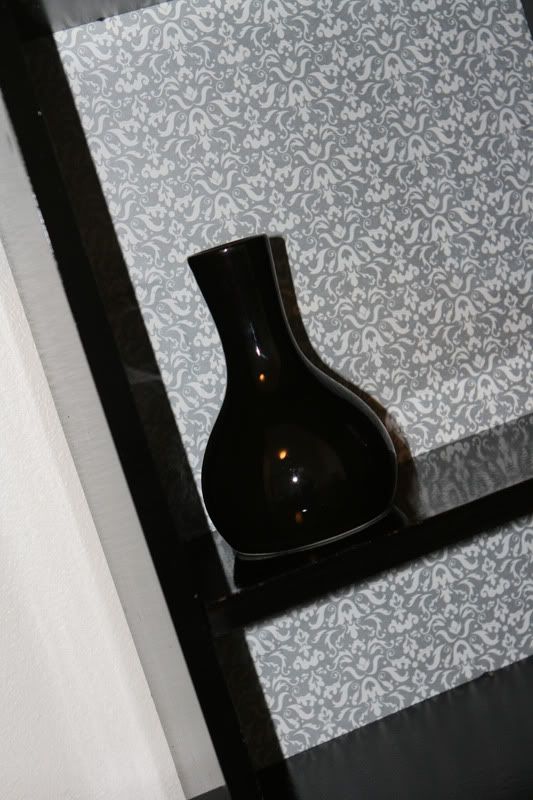 Side view: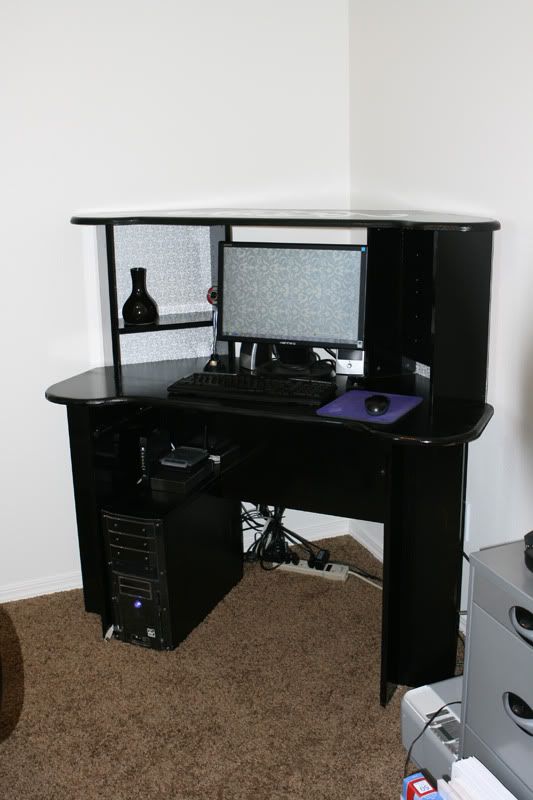 Two diagonal views: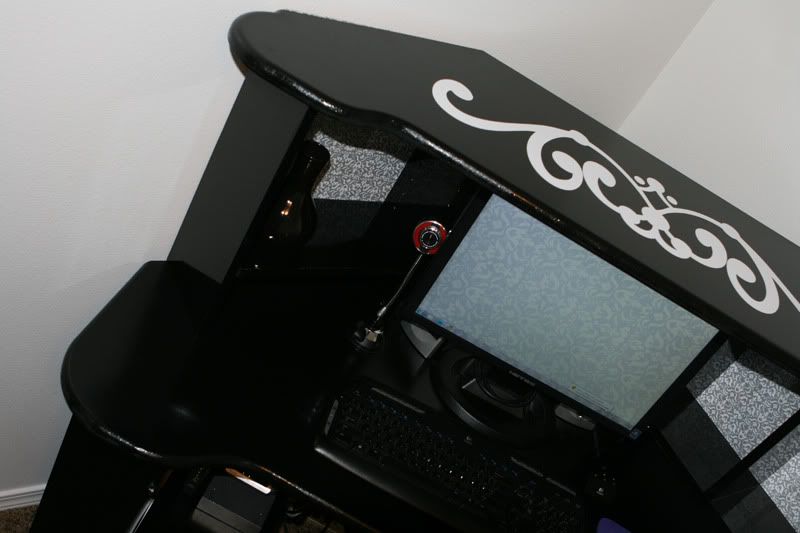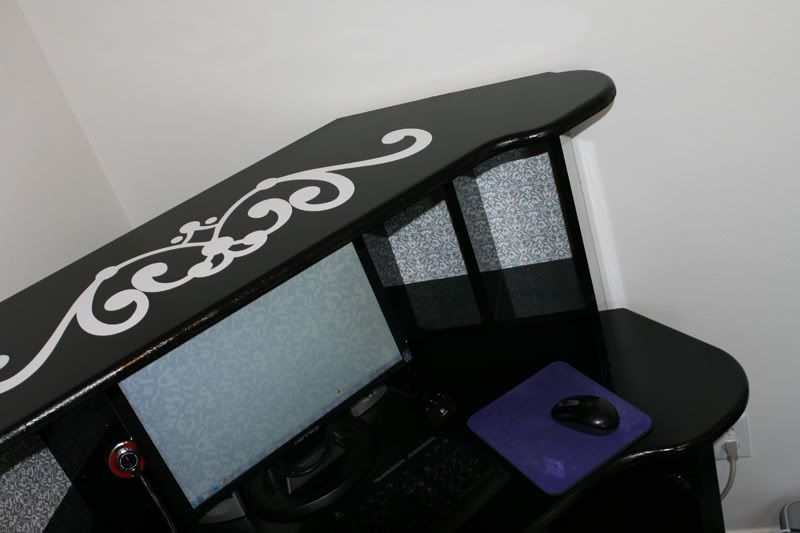 Desk again (the printer and junk has all been moved now)
AND GUESS WHAT??? I just got a FREE DRESSER!!! Stay tuned!